competition
Would you like to WIN this ultimate fishing prize pack ?
Sign Up For Newsletters
Get AWESOME monthly fishing tips & videos
To Enter the draw to WIN this prize valued at over $100
Sign up for our monthly fishing & tackle tying tips newsletter

BOOM!

you are in the draw to

WIN! BEST of LUCK!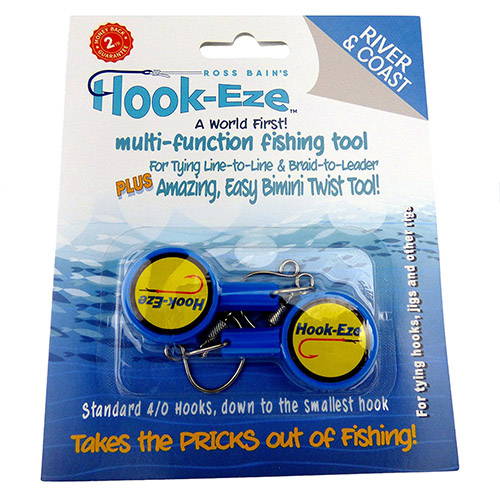 Hook-Eze River and Coast Twin Pack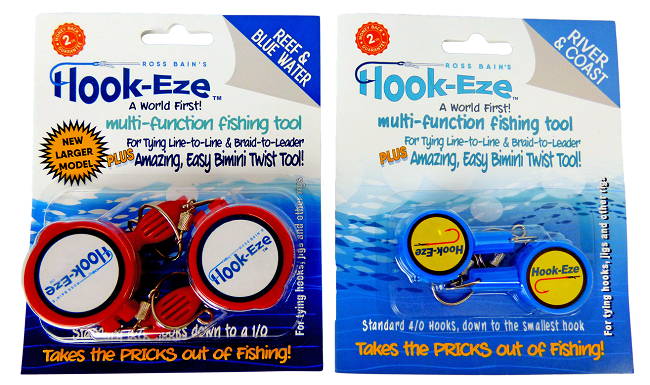 Customer Reviews
As a tournament angler, Hook-Eze helps me re-rig quickly, saving me a lot of time on the water.
Ronnie W. - Wisconsin, USA
---
With restricted sight & arthritis in my hands, Hook-Eze helps me tie my tackle easily. This is a great tool, thank you.
Dennis C. - Oregon, USA
---
As a single mum, Hook-Eze has helped me when taking the kids fishing, as they can all tie their own tackle & so can I.
Victoria S. - New South Wales, Australia
---
After trying this gadget for the first time, I almost cried! It took me seconds to put the line on the hook. Thank you for this nifty invention. You have a customer for life!
Brandy B. - Texas, USA
---
Description
FISHING KNOT TYING TOOL & SAFE HOOK COVER - Fits hooks sized from a Standard 4/0 hook down to the smallest hook No. 28. Hook-Eze also helps to tie Swivels, Jig Heads and Speed Clips for attaching lures or other rigs including a small variety of Flies. 1 x Reef & Blue Water + 1 x River & Coast Safe Fishing Hook Cover & Knot Tying Tool Between the two sizes cover hooks from 10/0 down to No. 28 size Hook
NOW EVERYBODY CAN TIE THEIR OWN TACKLE with a professional knot. QUICK SAFE EASY Suitable for anglers of all ages and experience - Never lose a fish from a faulty knot! Ideal for cold weather conditions, numb or arthritic fingers and other disabilities to the hands. Great addition to any tackle box!!
SIMPLE TO USE - Great for joining Line to Line or Leader. Braided Line to Monofilament / Leader using the FG, Blood or Yucatan knots. Hook Eze is an AWESOME Bimini Twist tool as the built in swivel helps create the twists in the line & now can be tied using only 2 hands and a HookEze.
TRAVEL SAFELY - use Hook-Eze to cover the hooks attached to the pole so you can safely transport your fishing pole whilst fully rigged. No more torn upholstery or damage to your car, boat or caravan. AVOID injuries to your passengers or pets.